DISTRIBUTORS
Cresset/Weir Cresset
The success of the Cresset / Weir Cresset distributor is down largely to the Airlock seal that is formed between the fixed outer tank and the rotating inner tank. This Airlock seal is almost frictionless and makes the machine ideal for installation in very low hydraulic head situations whilst still maintaining the ability to achieve jet reaction.
Self-Seal
The Self-Seal distributor has a very compact gland and base flange attachment, which makes it ideal for installation where the duckfoot base is close to the top surface of the filter media.
Self-Dosing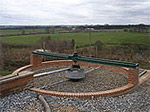 The Self-Dosing distributor is ideal for small works that are fed by low infrequent flows.
The distribution is controlled by use of a simple built in dosing syphon incorporated in the main centre collection tank.
Paddle Wheel Drive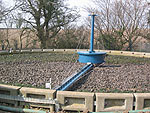 The Paddle Wheel Drive distributor is a more recent addition to our range and was developed with absolute minimum maintenance in mind.
The arms are open trough with the discharge being through 'V' notches in the distribution arms, which almost eliminates the need for clearing the arms and discharges notches.
Travelling Distibutors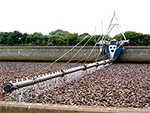 The Ham Baker Adams range of travelling distributors takes all the experience of many years of manufacture and harnesses it with more up to date materials in the form of stainless steel and GRP (glass reinforced plastic), which leads to a very clean and low maintenance solution.